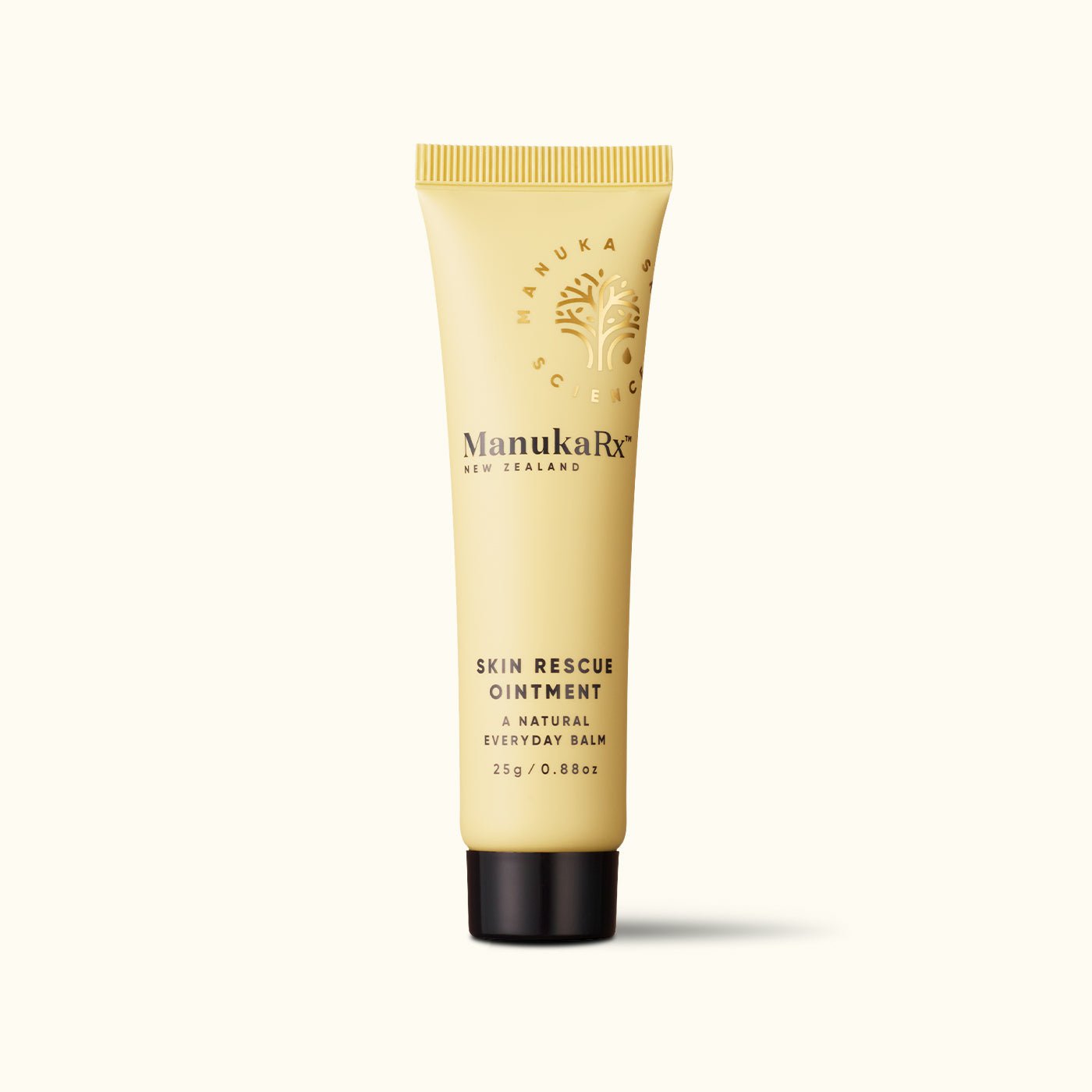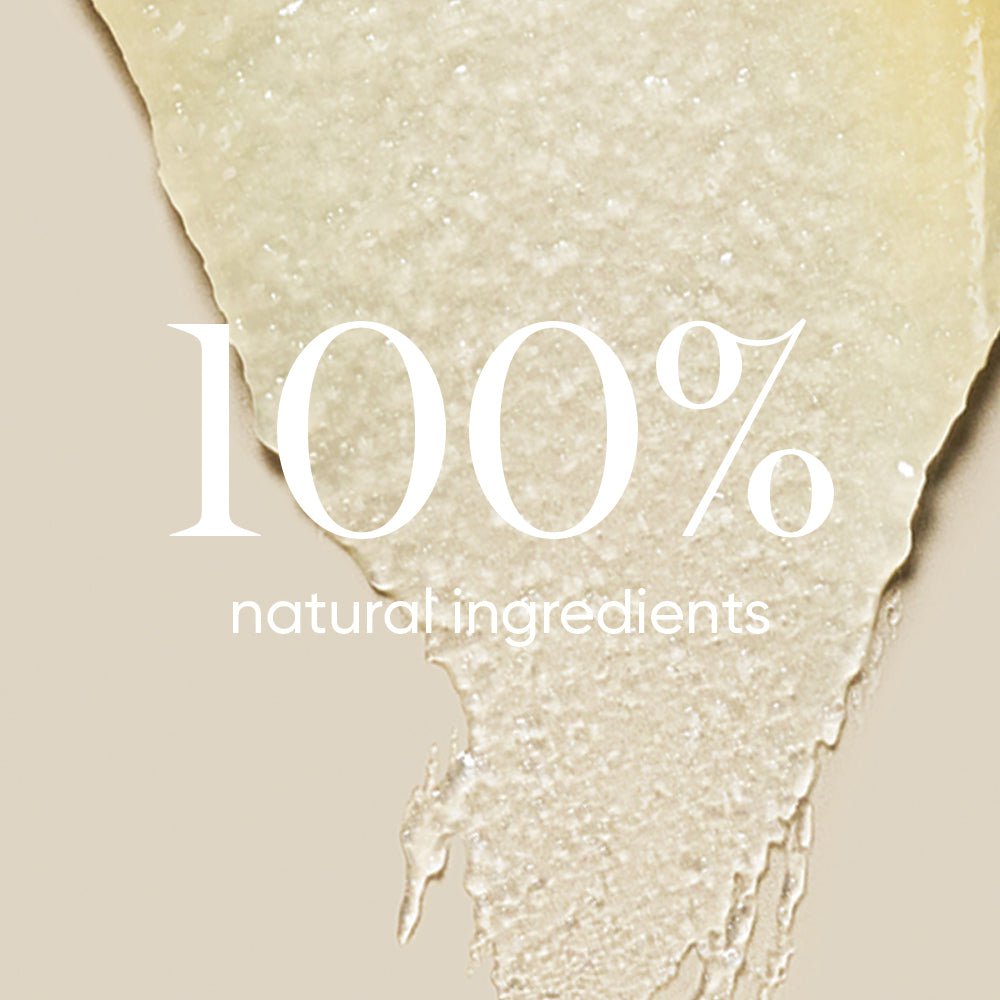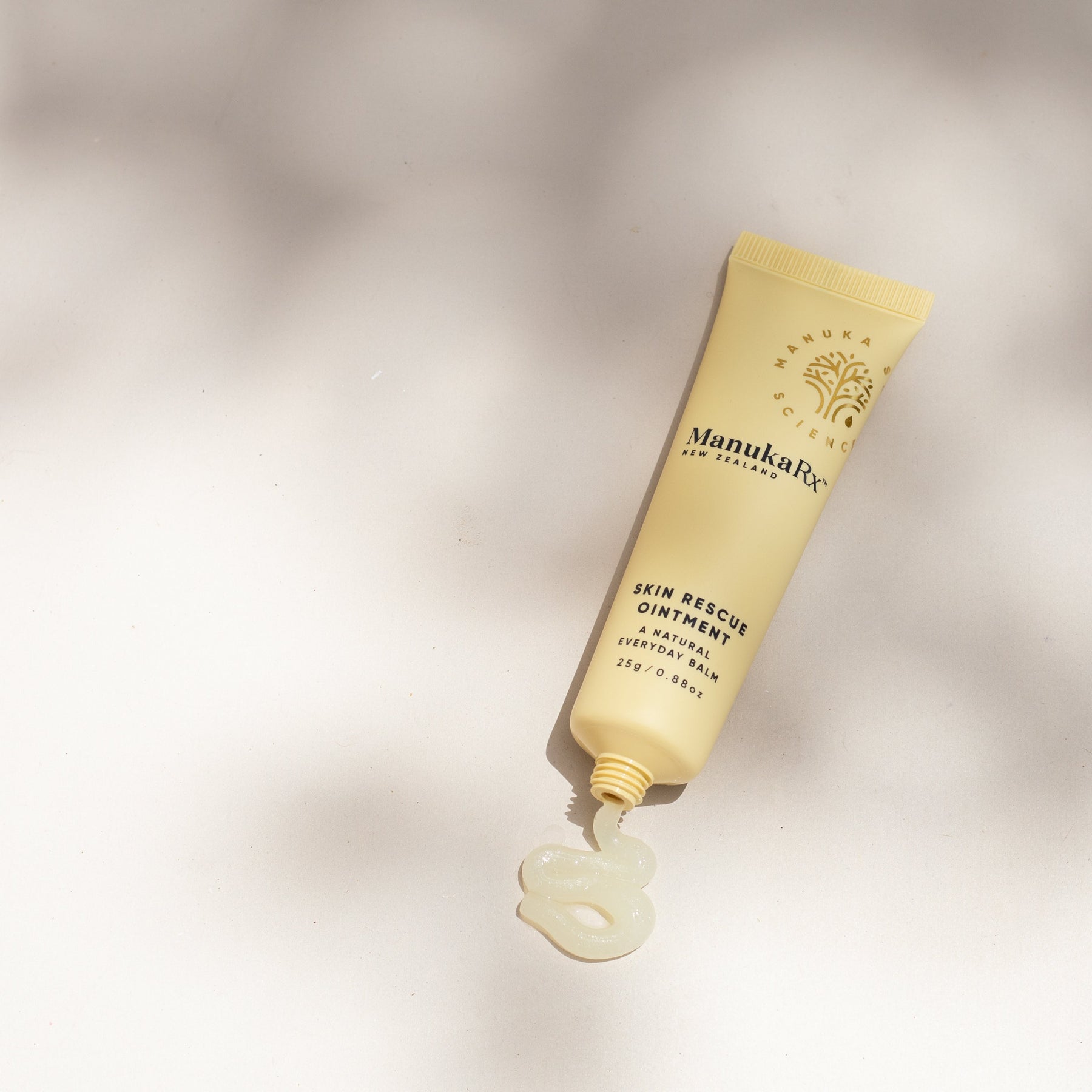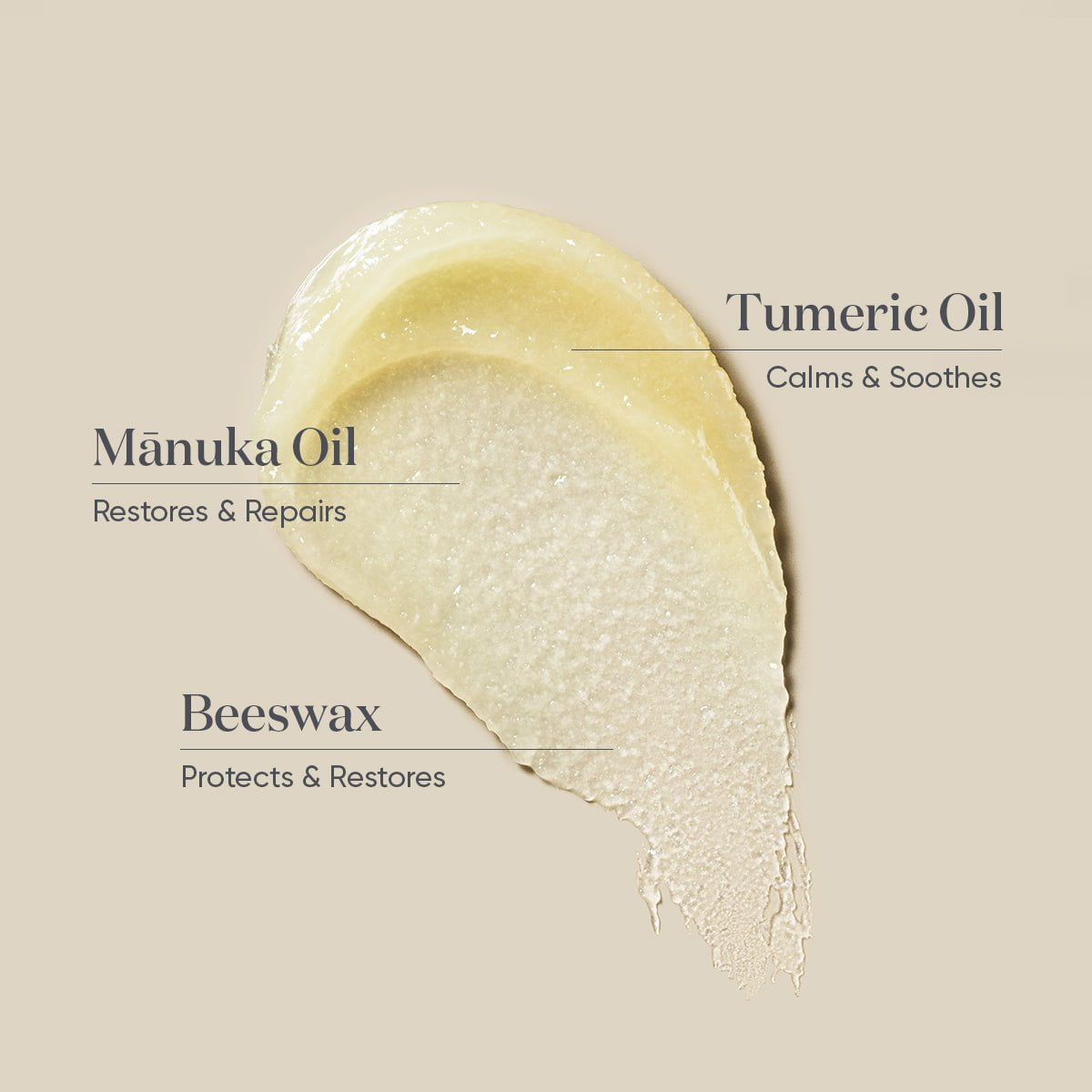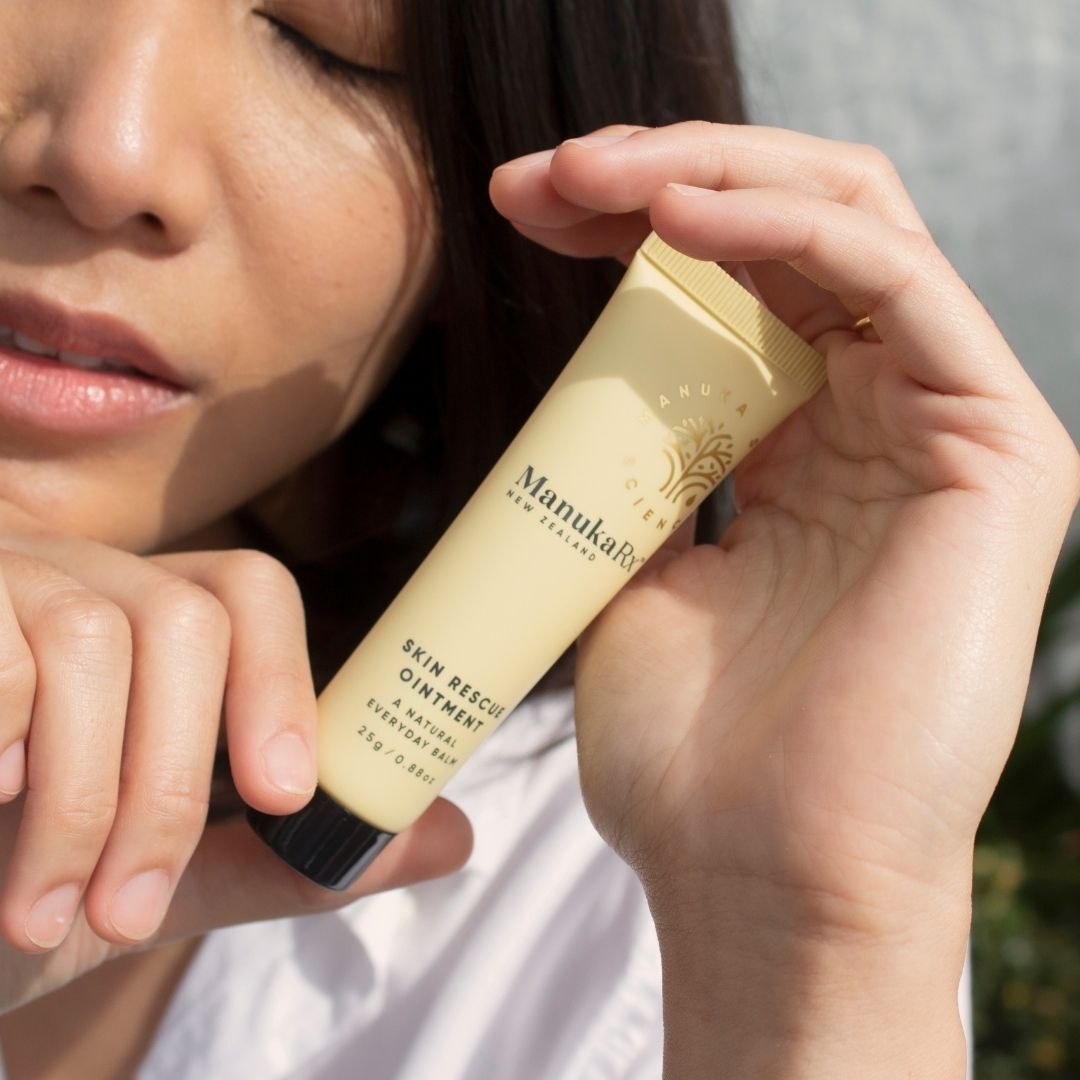 25g
Skin Rescue Ointment
A natural skin balm formulated with East Cape mānuka oil, and blended with nourishing plant extracts, to help repair, moisturise and soften your skin.
- All-in-one solution to your daily skin challenges
- An everyday balm that nourishes and soothes compromised skin
- Made with natural ingredients including East Cape mānuka oil
- Strengthens the skin barrier for optimal skin hydration and health

This everyday natural skin balm made with East Cape mānuka oil combines pure plant ingredients to soften, soothe and help repair compromised skin.

This little yellow tube packs a powerful anti-bacterial punch, and is specially formulated with a comprehensive blend of natural ingredients including East Cape mānuka oil to tackle many of your simple to stubborn skin issues. All the while promoting healthy and fortified skin.

The natural Skin Rescue Skin Ointment helps relieve dry skin, pesky blisters, insect bites, chapped lips, cracked cuticles, dry spots, and even minor cuts and burns to create a versatile companion for everyday skincare concerns of all kinds.
Scientifically developed with turmeric oil, a naturally potent antiseptic, as well as beeswax and shea butter, to shield the skin and act as a protective and hydrating barrier while allowing the skin to breathe. East Cape mānuka oil is packed with potent natural anti-bacterial properties as one of the most effective essential oils on the planet, and castor oil helps to prevent the spread of bad bacteria while unclogging pores and softening the skin.

How to apply: Squeeze as much as needed onto your finger, and rub into gentle massage into the affected area.

When to apply: Apply as often as required to assist with daily skin challenges.

Pro-tip: If you struggle with dry skin, you might want to try our ultra-nourishing and effective Dry Skin Oil.
Ricinus Communis Seed Oil, Helianthus Annuus Seed Oil, Cera Alba, Leptospermum Scorparium (mānuka oil) Oil, Tribehenin Theobroma Cacao Seed Butter, Butyrospermum, Parkii Butter, Tocopherol Acetate, Calendula Ocinalis Flower Oil, Curcuma Longa Root Oil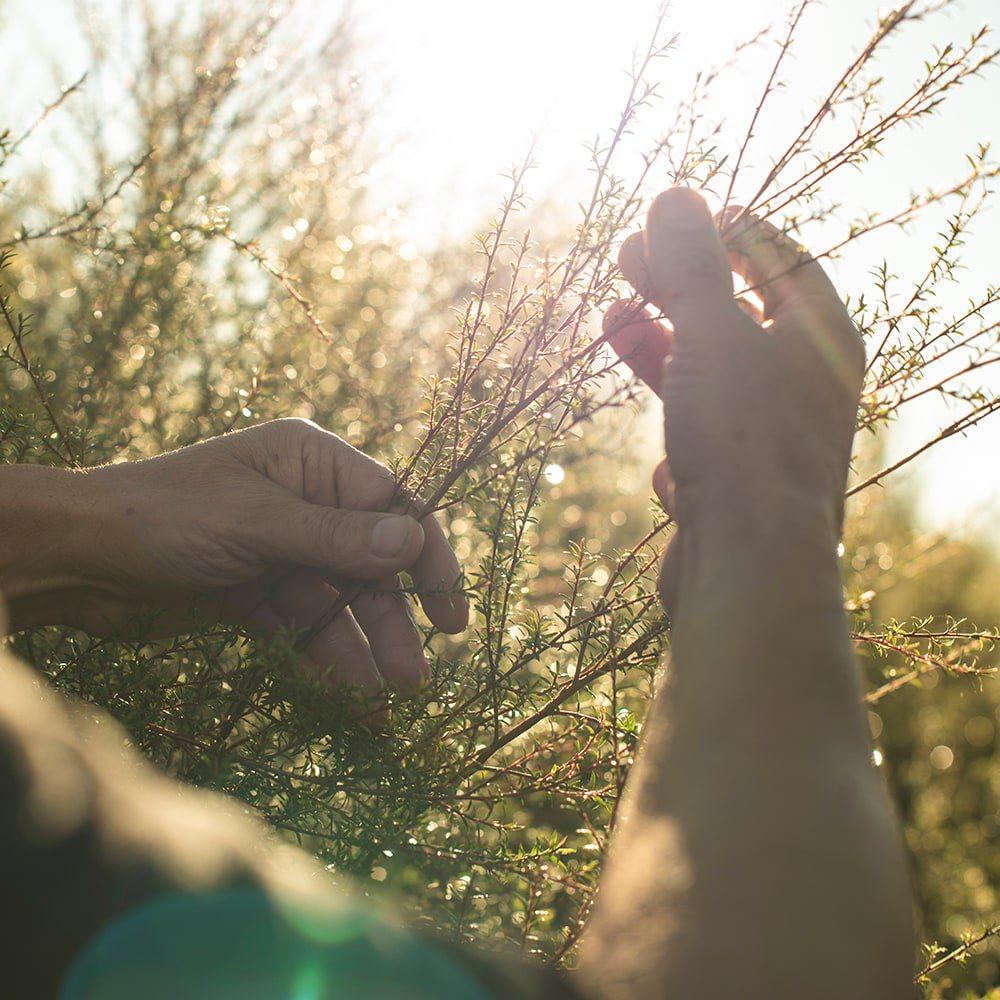 Mānuka Oil
Visibly improves the appearance of fine lines and wrinkles, reduces blemishes and dark spots, and protects the skin against UV rays.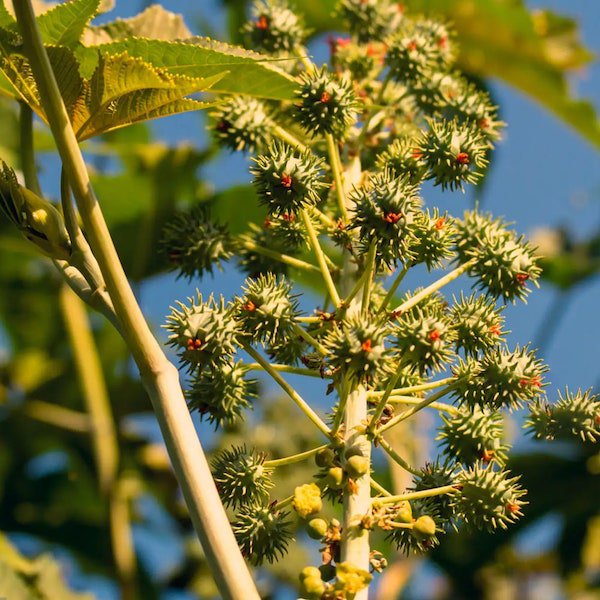 Castor Oil
Natural emollient rich in fatty acids. Caster Oil deeply moisturises and nourishes the skin, promoting a soft, supple complexion.

Sunflower Seed Oil
Moisturises without clogging pores, shields against environmental stressors, and promotes a radiant complexion with improved texture and tone.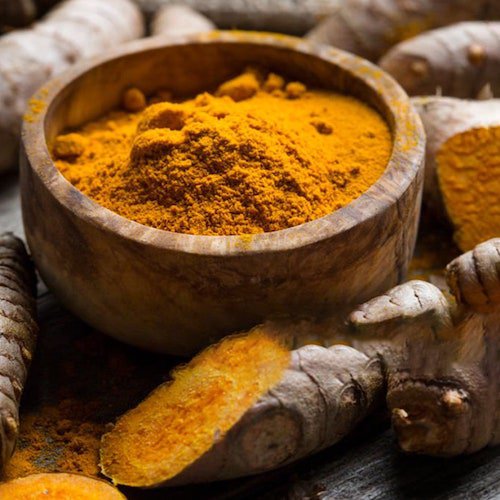 Turmeric Oil
A potent anti-inflammatory and antioxidant, it brightens and revitalises skin. It helps reduce redness, promotes an even tone, and supports a healthy, radiant complexion.
Our Company
Based in New Zealand's rural East Cape region, we harness the power of triketone-rich East Cape mānuka oil to bring your skin to life. Made with care and consideration for people and planet, we're here to help you get the skin you're meant to have, with nutrient-dense products that support the skin to rejuvenate naturally, consciously and effectively.
East Cape mānuka oil - The secret to skin health
Nowhere does mānuka have a higher triketone count than in plants grown in New Zealand's rural East Cape region. Proven by science to have extraordinary effects on skin health, the triketones in East Cape mānuka oil offer powerful antibacterial and antioxidant properties, and help support inflammation, skin healing and cell turnover.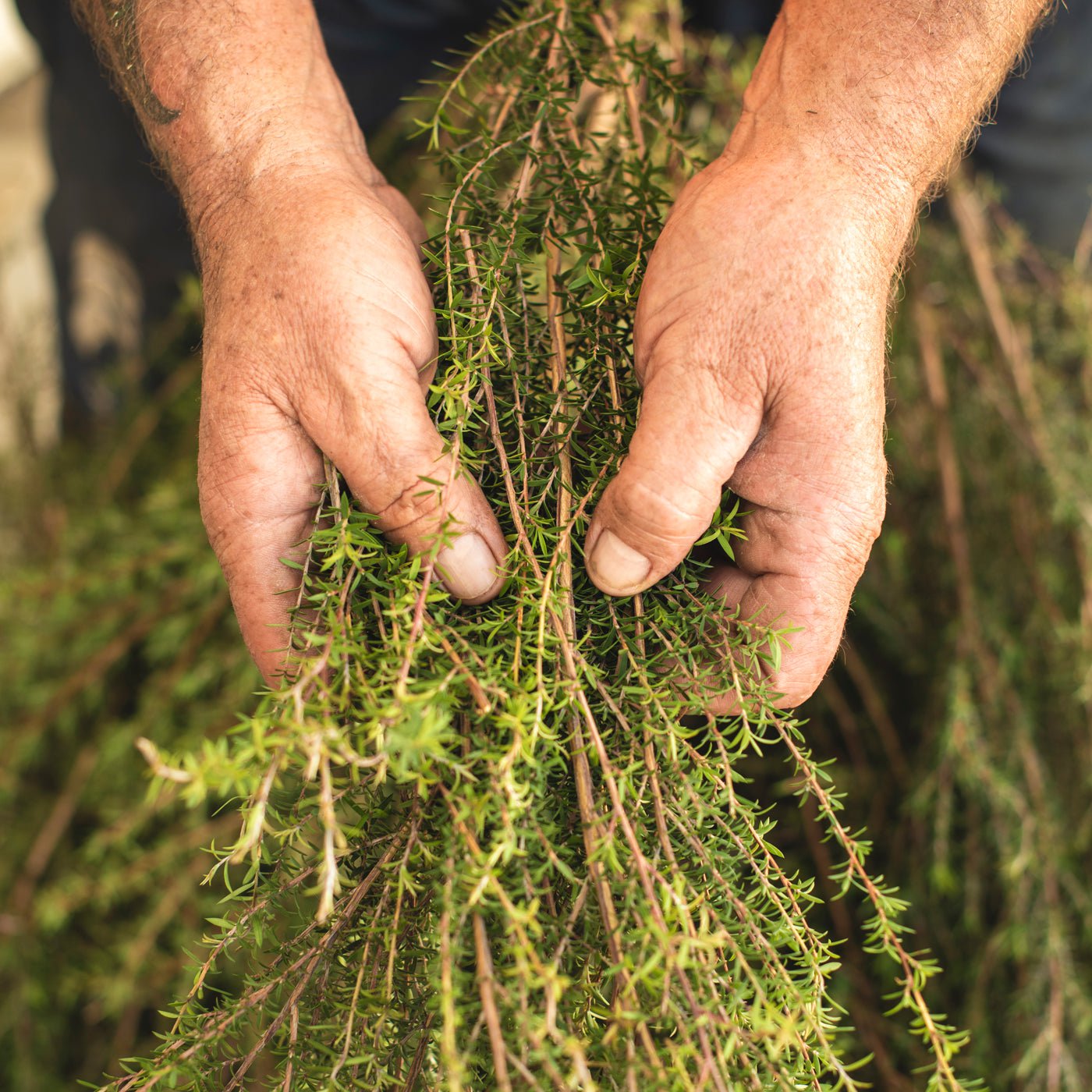 Skincare with conscience
We believe in making a difference with every drop. The planting and production of our mānuka oil contributes to the rejuvenation and uplift of environment and rural community. To date, we have helped to plant more than 5,000,000 mānuka trees on the East Cape of New Zealand.
Reviews
What our customers say
Hear what other customers had to say about this skincare product.
Customer Reviews
Write a Review
Ask a Question
17/10/2023
Luke P.

New Zealand
I recommend this product
Amazing
Amazing product, was getting dry red skin from shaving and this cleared it up within 2 weeks of appling once a day. Highly recommend. Thank you ManukaRx
11/09/2023
John M.

New Zealand
I recommend this product
ManukaRx
I experience significant sun induced skin damage on the top of my hands. Medical treatment has required applying an aggressive treatment 'Efudix' resulting in 'rough, angry looking skin' Since applying ManukaRx from 22 August morning and at night, skin appearance has significantly improved. Problem damage areas have reduced, but will require focus. I will continue using this natural product. Regards John
09/08/2023
Glenys M.

New Zealand
I recommend this product
Very satisfied customer
Just perfection... I have permanent lip colour and this product helps to moisturize so not to. lose colour and fade and it certainly does the job. Thankyou
17/05/2023
Katie

New Zealand
I recommend this product
Great healing
I brought this in the recommendation from my mother in law to see if it helps with the eczema around my eyes. It worked wonders especially around a delicate area! Would definitely repurchase again and again
02/05/2023
Janine T.

New Zealand
I recommend this product
Amazing Balm
I bought this to take tramping and biking, and general outdoor activities where the elements are harsh. I absolutely love it. I use it on dry lips, on scratches and sores, sunburn, almost anything that needs attention. It rapidly heals and soothes. Won't go out without it now.